Charlie Hadlock's Home Page

اهلا و صهلا Welcome! ˇBienvenido! Titambire!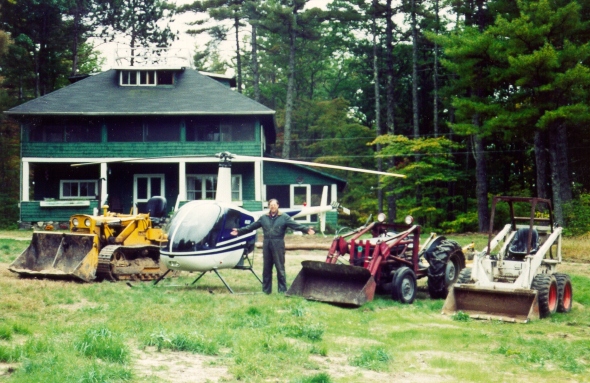 Whoops! Maybe you wanted my official office home page. In that case, you should go here:
Charles Hadlock's office home page
I'm an applied mathematician, and I like to get directly involved in the applications I'm working on. It's good for an academic to be deeply grounded in reality, and some of my toys help me with this. One of my big projects has been teaching about environmental issues and how mathematical modeling is very important in making progress on them. This is so interesting that I wrote a book about it based largely on my experience in my previous consulting career. You can get some flavor of it from this link. You may also be interested in my book on service-learning in mathematics, as I believe that mathematics has a lot to offer to society in many under-appreciated ways.
My biggest research interest right now is the fragility of society. How robust are our institutions in the face of economic and environmental changes, new forms of conflict, and poor business or public leadership? Maybe not as robust as we once thought. I've tried to think through some of the underlying issues with my latest book, Six Sources of Collapse: A Mathematician's Perspective on How Things Can Fall Apart in the Blink of an Eye. Aside from this link to the book, you might be interested in a brief interview I did on these issues. I gave a talk on this topic at the Joint Mathematics Meetings in Seattle in January 2016, and a copy of the PowerPoint slides can be found here.
Anyone who knows me, knows that one of my great loves is my summer place in NH, where I spend much of my time fixing things. In fact, sometimes I get a kick out of rescuing some high tech adventurer with some older technology like when some friends dropped in (literally) but couldn't get out because of weather changes and needed to hitch a ride back to Massachusetts. Visitors are always welcome in NH (but bring a hammer). To see what I mean, here's what happened when some relatives recently dropped by. In fact, sometimes we build whole buildings if enough friends or relatives visit. And we're always making lumber for new projects at our Belsaw mill, powered by the old Giasi family Mustang-2 engine.
Watch this page for my developing alumni gallery, where I plan to display secret information about the heroes and rogues of my past classes - people like Jennifer Forman Orth, Diane Curry Stokes, Walter VanBuskirk, Ellen Clark, Lindsay Konte, Caroline Martorano Holland (Where is she now?), George Ross, Wendy Brown Kang, Edith Joachimp, Andrea Hodgins-Davis, Josh Epstein, Bill Reinus, Meredith Malmberg Anderson, Gib Metcalf, and others. (These are the heroes, of course.) Let me know if you'd like to be included (or if you want your name off this distinguished list). I always love to hear from students or colleagues I've met at Bentley, Amherst, Bowdoin, Wellesley, or MIT, or from any other past acquaintances, recent or remote. And don'tever try to tell me that math classrooms are NOT romantic; after all, one couple who met and bonded over impossible (so they say) homework problems have now been married for many years.
Some very nice work by students of mine include consulting reports on recommended improvements to the Moody Street and Main Street areas of downtown Waltham (http:\\moodystreetresearch.org) and Angela Su's useful tool for mapping successive iterates of Newton's Method for polynomials in the complex domain ( http://atc.bentley.edu/faculty/chadlock/software/Angela/Newton's%20Method%20for%20Complex%20Polynomials.xlsx ).

You can contact me by E-mail here: chadlock@bentley.edu or find me on FaceBook.
Charles Hadlock, Charles R. Hadlock